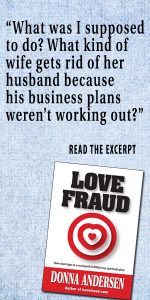 By Donna Andersen
We married secretly in Australia. Then six months after we met, had another wedding, complete with a reception and band, attended by family and friends. By this time I had already spent more than $53,000 on my husband's projects, much of it on my credit cards.
My brother's birthday was in March, and on a Sunday afternoon his wife planned a small celebration in their home. James said he had to work, as usual, so I went alone. Toward the end of the party, my brother cornered me in the family room.
"You know, Donna, Dad is concerned about James," he began.
"What's he concerned about?"
"He thinks James doesn't have any money and you paid for the entire wedding."
I froze inside. This was not a topic I was prepared to discuss.
"Well, things are tight right now until his projects come through," I said. "But when they do, we'll be fine."
"Look, Donna, why don't you let me check him out?"
"What do you mean?"
"I'll run a credit check. We do it all the time when my company hires someone new. All I need is his social security number."
If my brother did a credit check on James it would probably come back with problems. James already told me he had no credit. But the entire family didn't need to know that.
"I don't think that will be necessary," I said to him.
Shortly after that conversation, I left. But on the long drive back to Atlantic City, my stomach churned. What had I gotten myself into? James showered me with affection. He promised that we would soon be "living in the lap of luxury." He continued to make calls and go to meetings to pitch his plans. He recruited people besides me to become part of those plans. He wasn't at all worried. But I was working my butt off, and everything I earned was consumed by his spending. We were in debt—or more precisely, I was in debt. More debt than I ever had in my life.
I remembered a brief conversation James and I had a month earlier.
"The debts are yours," I'd griped at him. "You're the one spending all the money."
"That doesn't matter," he replied. "We're married. My debts are your debts."
The statement—and the callous tone of his voice—horrified me. I thought about those words as I was driving. The implications were not good.
When I got home almost two hours later, I was angry and upset. I didn't really want to talk to James, so I went directly upstairs. I was in our bedroom, sitting on the bed, when I heard my husband coming up the steps.
"When did you get home?" he asked, standing in the doorway.
"A few minutes ago," I said, without looking at him. I busied myself smoothing out the bedspread.
"You have to take me to the airport on Friday," James said. "I'm going to South Carolina to see the Lewises and then to Florida."
"Why are you going to Florida?"
"I have another meeting with the company in Sanford about working with TPG." That was the Polytechnique Group.
"How much is that going to cost?" I asked.
"Not much. I got a $100 plane ticket on Spirit and I'll be staying at a Days Inn."
At this point James noticed that I still hadn't looked at him and my voice was strained. "What's wrong?" he asked me.
Finally, I looked up. "Well, James, today my brother asked me for your social security number. He wants to run a credit check on you."
James didn't say anything.
"I told him that I didn't want him to do a check," I continued. "But if my family knew what was really going on they would have you out of here immediately." My tone and expression clearly communicated that I thought our problems were James' fault.
James took a few steps into the room. When he spoke, his voice was pained. "Donna, I know this isn't what you expected. It isn't what I expected either. I'm pushing as hard as I can. Everything is just taking a lot longer than I thought it would."
I sat on the edge of the bed, partially turning my back toward him.
"Do you want me to leave?"
I looked up. There were tears in his eyes.
"I don't want you to hate me," he continued. "I made a promise to myself—if it ever gets to the point that you hate me, I will leave."
I was in turmoil. I married this man. I made a commitment to stand by him, boots and all. That was the point of marriage—commitment. He was trying, but the plans weren't working out as quickly as he expected. What was I supposed to do? What kind of wife gets rid of her husband because his business plans weren't working out?
"Everything I'm doing is for you," he continued, as a tear slid down his cheek. "But if you want me to leave, I will."
I was quiet for a moment. Then I said, "No, James, we'll keep going."
James pulled me to my feet and put his arms around me. "I need you to believe in me," he said.
Next week's Love Fraud book excerpt: What I did about my husband's cheating
Start from the series Introduction
Now, hardcover Love Fraud book is only $9.99
Love Fraud: How marriage to a sociopath fulfilled my spiritual plan, is available in the Lovefraud Store. For a limited time, the original, hardcover edition, autographed by Donna Andersen, is on sale for only $9.99. Buy now.
FREE Online Book Discussion • Wed., March 13, 8 pm ET
Donna Andersen will lead a discussion of the ideas in Love Fraud — that the profound betrayal of a sociopath may be a catalyst for our personal growth. This is an online video conference call, although you can choose to participate anonymously. You'll get your invitation with your purchase, or you can register for the discussion here.