Yes, it is possible to find true, lasting love after the sociopath. My ex-husband, James Montgomery, proclaimed that he loved me, but he said the words only to exploit me — read highlights of the story starting  here. I didn't know if I would ever recover and find real love, but I did. In fact, this is the most important part of the story that I tell in my book, Love Fraud — the joy of finally connecting with someone whose heart is true. I'm sharing a few more excerpts of my book — read the healing journey starting here.
In a Valentine's Day special, I'm offering you an autographed copy of the original printed book for the very low price of $4.99, plus shipping. Enjoy! And be inspired! Buy now. 
Also, I'll be talking about Love Fraud on the Coast to Coast radio show, featuring George Noory on Feb. 6 at 3 am ET. If you're up, be sure to listen!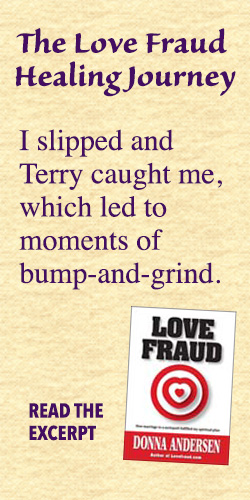 By Donna Andersen
My relationship with John was wonderful, but it wasn't meant to be. Nine months after we broke up, in April 2001, I met Terry Kelly in a Philadelphia blues club. For our first date, we talked about marketing work he needed done, and he took me to a fancy casino restaurant. I told him my story — my first husband was a con man who took $227,000 from me and decimated my business. The judge ordered him to pay me back, plus damages, but I was never able to collect my money. I was broke and starting over.
Throughout May, I was in communication with Terry Kelly, but we spoke only about his marketing project. He didn't call to chat. He didn't ask me out. Maybe my revelations scared him off. Maybe he wanted to keep our interaction strictly business.
Finally, right before Memorial Day, Terry invited me to the Brandywine River Blues Festival at the Chaddsford Winery in Pennsylvania. Chadd's Ford was nearly a two-hour drive from Atlantic City, so he said he'd pick me up between 11 a.m. and noon.
Memorial Day dawned sunny and mild—perfect weather for a festival. I was ready at 11 a.m. Forty-five minutes later, Terry had not arrived. Disappointment started creeping into the edges of my emotions. I'd been stood up so many times in the past, and I worried that it was happening again. I lay down on my bed, trying to keep from sinking into depression.
Shortly after noon, Terry's big Lincoln pulled up in front of my house. Relieved, I went downstairs to meet him. He was walking up the porch steps with papers in his hand.
"Hi!" I greeted him. "How was your trip?"
"There was a lot of traffic," Terry said. "More than I expected."
"Yeah, that happens on Memorial Day weekend."
We chatted a bit more, then Terry said, "I have something I want to show you. Can we sit down?"
"Sure."
We sat on the porch sofa and Terry handed me the papers—his personal income tax return.
"I think what you went through with your ex-husband was terrible," he said. "I just want you to know that I really do have a business and I do make money." I was stunned. I looked at the top page of the form—Terry reported a solid upper-middle class income to the government. Even more important, he thought enough of me to put my mind at ease.
"Thank you, Terry, this is really thoughtful of you," I said, handing him the tax return.
"Don't you want to look it over?"
"No. I've seen enough."
We embarked on our journey to the festival. Animated conversation filled our long ride to Chadd's Ford, a tiny township located halfway between Philadelphia, Pennsylvania, and Wilmington, Delaware. The somewhat rural area was dotted with Colonial-era buildings, and was the site of the Brandywine Battlefield, where the Continental Army lost a major battle during America's Revolutionary War. The Chaddsford Winery was in a massive, red Colonial barn set far back from the road amid landscaped grounds. The barn now housed a winemaking and barrel aging cellar, tasting rooms and a retail shop.
By the time Terry and I arrived, the festival was in full swing. A white and yellow striped tent was pitched on the gravel driveway in front of the barn. Under it was a low stage, a small dance area, and white plastic tables and chairs. More tables and chairs surrounded the tent, occupied by people enjoying the vineyard's products.
Terry and I sampled a few wines in the tasting room and bought a bottle. We stopped by the food concession for platters, then found an empty table in the sun for our instant party. We hadn't eaten any lunch, so the food and drink disappeared quickly. Terry bought another bottle of wine.
The blues band—with lead guitar, base, drums and harmonica—was cooking, and before long, inspired by the visceral music, we were dancing. This was quite a challenge on the loose gravel. I slipped and Terry caught me, which led to moments of bump-and-grind.
We laughed. We clutched. We enjoyed ourselves immensely.
A few hours later, after consuming our fill of wine and blues, we headed back to Atlantic City. It had been a wonderful day, with the attraction between Terry and me growing as the hours passed. He was handsome, fun, sophisticated and, I soon learned, passionate. Back at my house, there was kissing on the couch, and soon, we were ravenous for each other.
"Shall we go upstairs?" I asked.
Terry was a wonderful lover—gentle and strong, uninhibited and considerate. When he touched me, caressed me, the sensation was more than physical, I felt a deep, emotional and spiritual sharing. It was what I sought for so long—the sacred conjunction.
For a limited time: Get your printed copy of Love Fraud, autographed by Donna Andersen, for only $4.99 plus shipping!
Next: My heart led the way