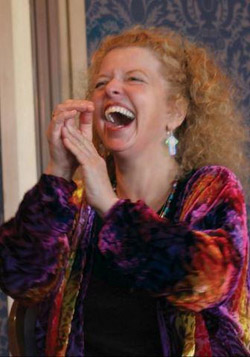 Recently I received an email about a free online program being presented by Donna Eden, the pioneer of energy medicine, on Wednesday, March 30, 2016.
Energy medicine is a combination of Eastern healing disciplines and Western science. The basic premise is that life energy flows through our bodies called qi in Chinese medicine and prana in Sanskrit. All illness reflects a block or disturbance in the life force. Opening the block and restoring the proper energy flow can lead to healing.
Simple daily practices can keep your life force flowing the way it should, to build your vitality and prevent illness.
Although it is not well known in our society, energy medicine is one of five alternative medicines recognized by the National Institute of Health in the U.S. More and more scientific research is validating that it works.
Donna Eden, author of the book Energy Medicine, will present a free introduction to energy medicine on March 30 at 8:30 pm ET, 5:30 pm PT. Here's what she says about it:
Energy Medicine builds upon acupuncture, craniosacral therapy, therapeutic tai chi, yoga and other disciplines, and it offers a powerful complement to traditional forms of allopathic medicine.

During this 60-minute free online event, you will be introduced to:
Some fundamentals of Energy Medicine what it is, how it works, and what it can do for you.

Simple tools you can use immediately to balance your personal energy systems.

How to engage your own energies for optimal health, happiness, and well-being.

Keys to helping others use their own energy systems to improve and sustain health and vitality.
It appears that the goal of the introduction is to get you to sign up for a longer program. If you feel it's valuable and want to do it, terrific but that's your decision. I've read two of Donna Eden's books, and I think she has a lot of valuable information to offer.
I do believe that our health is in our own hands, and that's what this presentation is all about.
For more information, go to:
Tap into your full vitality with Energy Medicine — Simple practices to keep you healthy and thriving