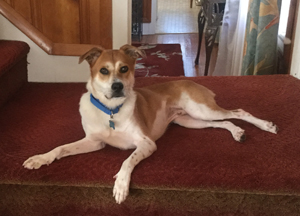 Meet my new dog, Bo. My husband, Terry, and I brought him home from a shelter on Thursday.
I've been meaning to get a dog ever since my previous dog, Beau, died of old age. That was more than 13 years ago.
What took so long? I never felt like I had the time or the energy for another dog then suddenly, more than a decade slipped by.
My first dog, Beau
Beau was with me when I met my sociopathic ex-husband. During all the confusion and upheaval of my fake marriage to James Montgomery, my dog was the loyal companion that my husband should have been.
After two and a half years with Montgomery, I discovered that my entire marriage was a scam. I left him, and Beau was my comfort. As I sat on the floor weeping, my four-legged friend frantically kissed my tears away. I always had to stop crying at some point, if only to take him for his walk.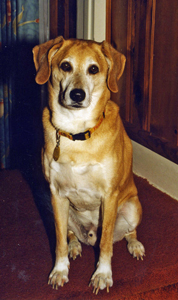 To overcome the betrayal of the sociopath, I worked with an energy healer, Elaine Anderson. I remember one session in which I worried that Beau was getting older. Elaine assured me that Beau would stay as long as I needed him. Then he would pass, and after that I'd get another dog.
In 2001, slightly more than a year after my divorce, I met Terry Kelly. We fell in love. Two years later, in March 2003, Beau died on his cushion next to my bed.
Even though I knew it was coming, I was heartbroken. In my next session with Elaine, all I did was mourn my departed companion. "Pets get deep into our hearts," Elaine sympathized.
It took a long time to process the grief. At the end of the session, Elaine told me that Beau and I were good friends, and he offered to come back to me when I was ready. I was thrilled.
You can read the full story of Beau and me in my book, Love Fraud.
Life is short
My husband, Terry, had a heart attack last February. For five days, I did not know if he would live or die. And if he lived, I did not know if he would be healthy or incapacitated. (See Please keep Lovefraud co-founder in your thoughts and prayers.)
Terry lived, and he is fine. But his heart attack was a brutal reminder of the fact that life is short. When he got home from the hospital, Terry didn't want us to wait any longer. He wanted us to go ahead and get a dog.
I wanted to adopt a rescue dog that was medium-sized, calm and out of the chewing stage — two or more years old. For the past few weeks I've been looking online at the pets available in shelters. We visited one dog that was a coonhound like Beau. She was very well mannered, unlike Beau. But by the time we applied for her, we were too late — someone else had adopted her.
A dog named Bo
On Thursday morning, I looked at the dogs available at the Animal Welfare Society in Voorhees, New Jersey. This facility takes in many animals from overflowing shelters elsewhere in the country.
They had a dog named Bo. He looked somewhat like my first Beau, although he was a bit smaller. When I saw him online, I cried.
Terry and I went to the shelter that afternoon. We walked through the kennels they had many beautiful dogs. We asked about four of them two beagles, a black labrador mix, and Bo.
Bo is a terrier mix, about five years old. He had just arrived in New Jersey from a shelter in Georgia, where he was named. The Animal Welfare staff didn't know how long Bo was in the Georgia shelter, but at some point before that he'd been a stray. Even so, Bo's records described him as a "happy dog."
The shelter manager brought Bo to the "meet and greet" yard. He was friendly and spunky. He knew how to sit. He knew how to walk on the leash, although he was a bit rambunctious. He was reasonably well behaved around other dogs. We adopted him.
Coming home
For the hour-long ride home, I sat in the back seat with Bo. He immediately jumped onto my lap and looked out the window.
We stopped at Petsmart for dog food and supplies. I doubt that Bo has ever been in a massive store like Petsmart, but he handled it well. When we got home, I took him on a short walk in his new neighborhood. Then he curled up on his new pillow and went to sleep.
Bo has been with us for three days, and it feels like he's been here forever.
Letting go
So why am I telling you this story? Because I am in awe of how quickly Bo has let go of his past and embraced his new life.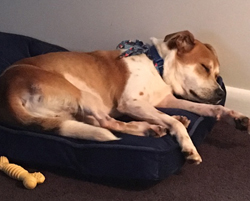 I don't know the full story of what Bo endured. He was a stray, then he lived in a shelter filled with barking dogs. He traveled 800 miles probably in a crate —to another shelter, filled with more barking dogs. He was put in a car by people he didn't know, traveled almost an hour to Petsmart, an avalanche of sensory stimulation. Then he was led into a strange house.
Bo lapped up some water from a new bowl, sniffed around, and made himself comfortable.
He let go of everything that happened to him in the past, and relaxed into his new life with his people who already love him.
Whatever pain we have suffered in our lives, the secret to overcoming it is letting go. Perhaps we can learn from a dog named Bo.