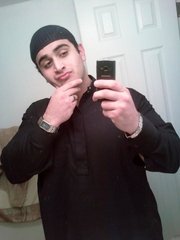 Like all of America and civilized people around the world, I am heartbroken and sickened by the 49 people slaughtered and 53 injured in an Orlando nightclub early Sunday morning.
The shooter was Omar Mateen, an American born in New York of Afghan parents. In a 911 call to police as the dead lay around him, Mateen swore allegiance to ISIS.
But as authorities try to figure out how Mateen became radicalized, I'm not so sure that he shot up a gay nightclub for Allah. To me, it looks like Mateen was simply an evil sociopath, and pursuing Islamic jihad was a convenient excuse to get a gun.
Ex-wife Sitora Yusufiy
The first clue comes from how Mateen's ex-wife, Sitora Yusufiy, described him. In an interview with reporters, she said:
"In the beginning he was a normal being that cared about family, loved to joke, loved to have fun, but then a few months after we were married I saw his instability. I saw that he was bipolar and would get mad out of nowhere."
"After a few months he started abusing me, physically, very often, not allowing me to speak to my family, keeping me hostage from them."
"He was mentally unstable and mentally ill "¦ Obviously disturbed, deeply traumatized."
"When he would get in his tempers, he would express hate towards everything."
"My family literally rescued me. The night that they were there, they had to pull me out of his arms and buy an emergency flight. I left all my belongings."
Many, many Lovefraud readers will recognize these behaviors. Sociopaths are typically fun in the beginning, while they are seducing their targets. Once the target is committed to the relationship, the sociopath stops pretending. Then the target sees sudden rage, isolation, physical abuse and hateful statements.
Sitora called Mateen "bipolar," but that have been a misinterpretation of the symptoms. Or, maybe he was bipolar, because some sociopaths are also bipolar.
Watch the interview: Orlando gunman's ex-wife: 'He would get mad out of nowhere'
Frequenting gay clubs
Mateen targeted a gay nightclub, the Pulse. At first, experts thought it was because the Koran says homosexuality is a sin, and the prophet Muhammad said homosexuals should be killed.
Islam and homosexuality: What does the Koran say? on Haaretz.com.
Then multiple witnesses said that Mateen had frequented the Pulse for years. And he wasn't casing the joint for an assault, he was getting drunk and belligerent.
Plus, he used gay dating apps and asked at least one man for a date.
Orlando shooter Omar Mateen was gay, former classmate says, on PalmBeachPost.com.
Mateen was also married twice. So was he confused about his sexuality?
I don't think so. Having sex with both men and women is normal for a sociopath. Sometimes they're looking for sexual variety. Other times they view sex as a tactic for controlling people. Many sociopaths are neither straight nor gay they'll have sex with anyone.
Plus, Lovefraud's research shows that sociopaths who are sexually deceptive are more likely to threaten violence and engage in physical abuse than sociopaths who are not sexually deceptive.
It seems to me that Omar Mateen took the next step to mass murder.
Bullying and intolerance
When he was in the fifth grade, Omar Mateen bullied classmates, threw chairs and threatened to shoot up his school.
Orlando shooter Omar Mateen 'threatened to bring a gun and kill students at his elementary school', former classmates reveal, on DailyMail.uk.co
In 2001, Mateen was a sophomore at Spectrum Alternative School, which was for students with poor grades or behavior problems. He cheered during the 9/11 attacks and claimed Osama bin Laden was his uncle.
As an adult, Mateen worked as a security guard for G4S Security. Daniel Gilroy, a former co-worker and a former police officer, said Mateen frequently made homophobic and racial comments.
It was so bad that Gilroy complained to the company. Then Mateen started stalking him via phone 13 to 15 voice messages, and 20 to 30 texts a day. Lovefraud readers who have tried to get rid of a sociopath know what that's like.
Gilroy finally quit the job. "I quit because everything he said was toxic," Gilroy said Sunday, "and the company wouldn't do anything. This guy was unhinged and unstable. He talked of killing people."
Co-worker: Omar Mateen homophobic, 'unhinged', on FloridaToday.com
Confused about jihadist organizations
Mateen did attend a mosque in Fort Pierce, Florida, although the imam, Syed Shafeeq Rahman, said, "He would come in at the last minute, and he would leave the first minute, and he would not talk to anyone," according to the New York Post. It doesn't sound like he was devout.
Mateen was not clearly affiliated with any jihadist movement. As a child he claimed Osama bin Laden, head of al-Qaeda, was his uncle. Al-Qaeda is a Sunni organization. In 2013 he claimed to be a member of Hezbollah, which is a Shiite militia. The next year he had contacts with a man who fought with Jabhat al-Nusra, an al-Qaeda affiliate in Syria. Then, in the middle of his rampage, he called 911 and swore allegiance to ISIS. These Islamist groups are not allies. In fact, they are often fighting each other.
Omar Mateen may not have understood the difference between ISIS, al-Qaeda and Hezbollah, on WashingtonPost.com.
Authorities did report that Mateen watched jihadist propaganda online, and searched for videos of beheadings. But that may be more because he was fascinated by violence than spurred by religious fervor.
Orlando gunman Omar Mateen 'searched for videos of ISIS beheadings,' on Independent.co.uk
Omar Mateen didn't kill 49 people because they were non-believers. He killed them because he wanted to kill.
Cool and calm
After his initial barrage of gunfire, Omar Mateen called 911 and talked to police on the phone. According to the New York Times, the shooter was "cool and calm," while he talked about more killing, swore allegiance to ISIS and praised the Boston Marathon bombers.
This is key. Omar Mateen had no empathy and no remorse hallmarks of a sociopath.
Former FBI profiler Mary Ellen O'Toole said, "He's extremely callous. It shows an extreme lack of empathy for the victims, a lack of guilt, a lack of compassion, and those traits did not just occur the day before the shooting no, those were personality traits that preexisted the shooting," O'Toole said.
O'Toole says the personality traits were entrenched long before Mateen started shooting again, the definition of a sociopath.
Watch the video: Orlando gunman's alleged sexual confusion betrays ISIS loyalty, on CBSNews.com.
Mateen was not radicalized
The bottom line is that Omar Mateen was not a pious Muslim who was radicalized into becoming a terrorist. Omar Mateen wasn't a lone wolf, following the call of jihad. He was more like Eric Harris, the Columbine High School killer later diagnosed as personality disordered, who considered the people he killed to be "morons." Mateen was a bullying, sexually deceptive sociopath, who used ISIS and Islamic jihad as an excuse to do what he really wanted to do kill a lot of people.
Unfortunately, that mean none of the steps law enforcement or government officials could ever take to fight Islamic jihadist terrorism would have made a difference. I believe Mateen was a ticking time bomb who would have exploded one way or another.