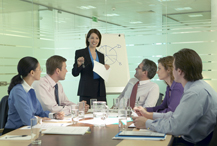 When Carolyn Bates was an undergraduate attending the University of Hudddersfield in England, her final-year project for her psychology degree turned out to be groundbreaking research into the links between psychopathy and intelligence.
According to Science Daily, Bates said that she was intrigued by research that showed while one percent of the population were categorized as psychopaths, the figure rose to three percent in the case of business managers. "I thought that intelligence could be an explanation for this, and it could be a problem if there are increased numbers of psychopaths at a high level in business," she said.
After administering a number of tests to 50 participants, Bates concluded that those with higher IQs had sufficient intelligence to fake their emotional response, making it more difficult to detect their condition.
Her research has been accepted for publication by the peer-reviewed Journal of Forensic Psychiatry and Psychology — an unusual distinction for an undergraduate.
There could be increased numbers of psychopaths in senior managerial positions, high levels of business, research shows, from ScienceDaily.