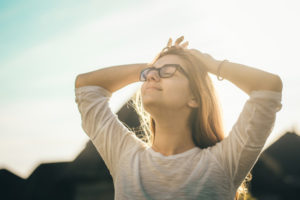 By Joanie Bentz, B.S., M.Ed., CCBP, BC
Our bodies are equipped with many hormones that act as "chemical messengers" to the brain. When these chemicals are released, cellular changes occur that can affect your wellbeing. Four of them — endorphins, oxytocin, dopamine and serotonin — could be considered "happy hormones" because they help us feel good. During and after narcissistic abuse, many of the "feel good" chemicals are suppressed as a result of constant psychological and/or physical attack, which leads to a state of hypervigilance or "fight or flight." Restoring your happy hormones helps you recover.
Chronic traumatization rewires the brain and body
Most survivors of narcissistic abuse have experienced years of chronic traumatization, usually from a love interest or family member, which most likely continued long-term. The stress of walking on eggshells around the narcissist, and the constant lies, manipulation, and gaslighting, eventually take a toll on the body and mind. According to trauma expert Dr. Bessel van der Kolk, author of The Body Keeps the Score, trauma lives in our bodies as well as our minds. Trauma can interfere with thought processes and interpersonal relationships while affecting physical health.
Read more: Oxytocin, trust and why we fall for psychopaths
Narcissitic abuse erodes health and wellness
The experience of narcissistic abuse has been known to be related to, but not limited to, amnesia, anxiety, depression, gastrointestinal disorders, thyroid malfunction and adrenal exhaustion.
Important hormones that regulate our body functioning can be interrupted and impaired. Biochemical addictions that have been formed through traumatic bonds in emotionally abusive relationships can disrupt how our bodies normally function.
Restoring your happy hormones
So how do your restore self-regulatory hormones and begin to re-engage in the present moment with a positive outlook for the future?
Narcissistic abuse survivors can facilitate healing of the body and mind by restoring your happy hormones that are responsible for regulating mood and increasing a sense of wellbeing.
Endorphins: These hormones are responsible for relieving stress and reducing pain. Exercising is a great way to increase endorphins, especially running. Endorphins are responsible for the "runners high" experienced by long-distance runners. Laughing and sharing a happy moment with someone also increases this hormone. Many narcissistic abuse survivors lose their ability to laugh and smile after being mistreated daily. Exercise may help you recover your smile.
Oxytocin: This is referred to as the love hormone. A new mother produces milk for her baby, and the relaxed feeling she experiences when nursing is due to an increase of oxytocin. If you engage in any type of intimacy — hugging someone, showing them love and caring, holding someone's hand or even having a conversation — oxytocin is released. It is important to maintain healthy relationships with others after narcissistic abuse.
Dopamine: The "reward" chemical increases when eating healthy, taking a long bath, or completing a task that is fulfilling. Learning and engaging in a new skill involves the secretion of dopamine. Many narcissitic abuse survivors neglected their own needs while attempting to meet the unreasonable demands of the narcissist. It's important to do things that are rewarding to you.
Serotonin: This "mood stabilizer" is a neurotransmitter that increases with sunlight exposure. Many of us do not get enough sunlight. Sunlight can increase production of endorphins as well. Walking in nature is an ideal way to increase serotonin. A low-intensity exercise like hiking will assist with clarity of thought and the calming of the mind after narcissistic abuse.
In the aftermath of narcissistic abuse, various methods of self-care can help you cope as you heal and maintain a healthy body, while increasing mental resilience. When choosing self-care activities while on your path to self-transformation after narcissistic abuse, it may help you to focus on restoring your happy hormones.
Learn more: Start your recovery from emotional and psychological abuse