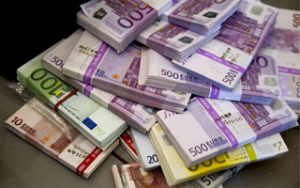 Semia B., a Belgian woman who was not fully identified, is on trial for pretending to love seven men and scamming them. Her story includes signs of a sociopath.
Nele Poelmans, the public prosecutor, claimed Semia B took a total of 385,000 euros over three years, although one of the victims put the total at 550,000 euros.
According to a news report in The Brussels Times:
The men were questioned and all gave similar statements. The woman promised a longterm relationship, but it never came to that. According to public prosecutor Poelmans, there also weren't any sexual relations. "The victims had to undergo an std-test first, or she would find another excuse." According to the prosecutor's office, it's clear the woman never intended to have a real relationship.
Semia B.'s attorney said the men gave her everything as gifts, according to the news report. The woman herself denied everything:
"With my hand on my heart, I can say that I never did anything wrong, I never intended to hurt anyone and I've always been honest," she said at the hearing.
Yeah, right.
The news article included several details that describe the signs of a sociopath:
Semia B. targeted men who were cognitively impaired, lonely or naive.
She immediately started talking about trips, living together and getting married.
She quickly started asking for money to solve her financial problems.
She was seeing multiple men at the same time.
She used different identities.
She found excuses to not have sexual relationships with the men. This is a form of control — keeping the men on the hook.
Semia B. claims to always be honest.
Semia B. could get 40 months in prison. If she is convicted, she'll probably figure out how to run a scam from prison.
Woman risks 40 months in prison for allegedly scamming 7 vulnerable men, on BrusselsTimes.com.
Story provided by a Lovefraud reader.