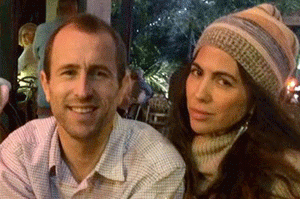 Lewis Bennett will be sentenced this week in Miami, Florida, for the death of his wife, Isabella Hellmann, who was lost at sea during their honeymoon in November, 2017.
Bennett, an experienced British sailor, pleaded guilty to involuntary manslaughter. Bennett had claimed that the boat had struck an unidentified object. However, photos released by federal prosecutors show that the hull was intentionally punctured from the inside, causing it to sink.
The United States Coast Guard found Bennett floating in his lifeboat in the Atlantic Ocean. The body of his wife was never found.
Signs that Lewis Bennett is a sociopath:
Murder.
Bennett saved himself — and $36,000 in rare coins he had stolen.
The couple owed $2,500 in property taxes and owed considerable credit card debt.
Two weeks after his wife disappeared, Bennett purchased one-way tickets to England for themselves and the couple's infant daughter.
Bennett tried to have his wife declared legally dead seven months after she disappeared. Then he could inherit her home.
Text messages revealed that the couple's relationship was bad. Isabella texted that Bennett "didn't respect her anymore."
Isabella also texted that she was "afraid to get home."
Read more:
Photos show how sailor killed wife during honeymoon by sabotaging their boat, on People.com.
Pics reveal how husband sank yacht to drown wife on honeymoon, on NYPost.com.
Story suggested by a Lovefraud reader.