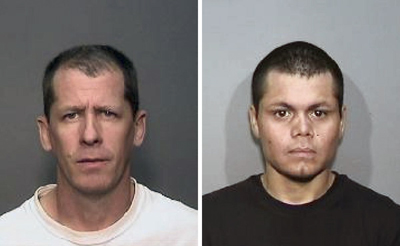 Prosecutors in Orange County, California, started calling him "Jaws" because he was such a vicious predator. Last week, Steven Dean Gordon, 47, was convicted of abducting and killing four random women in Santa Ana, between 2013 and 2014.
Gordon was already a convicted sex offender. His partner in crime, Franc Cano, was also a sex offender. Cano will be tried separately.
Both men were under supervision after being convicted in separate cases of lewd and lascivious acts with a child under 14.
Both men were wearing GPS tracking devices. In fact, it was the data from the tracking devices that connected them to the disappearances of the four women, who were all prostitutes.
After their arrests, prosecutors found their text messages to each other about killing the fourth victim, Jarrae Estepp. Gordon didn't want to do it, but Cano said it was his turn.
These guys never should have been on the streets.
Jodi Pier-Estepp, the mother of the last victim, has filed a lawsuit against the California Department of Corrections. She alleges that because of overworked parole officers and faulty GPS devices, the state did not adequately the two criminals, which lead to her daughter's death.
Dangerous offenders
Canada, England and Wales have "dangerous offender" designations. Offenders who are considered to be too dangerous to release into society because of their violent tendencies can be incarcerated indefinitely.
I would like to see dangerous offender laws instituted in the United States. Even if California had enough parole officers, they may not have the tools to protect the public from psychopathic predators.
Plus, law enforcement needs to start screening offenders for psychopathy. The Hare Psychopathy Checklist Revised was designed to estimate an offender's risk of recidivism. Administering the evaluation should be standard for everyone convicted of violent and sexual offenses.
Our society needs to understand that some people are nothing but evil, and these predators need to be locked up.
Sex offender dubbed Jaws for his predatory attacks is found guilty of slaughtering four women despite being monitored with a GPS tracking device, on DailyMail.co.uk.
Grand jury transcripts: Prosecutors say gruesome text messages reveal suspects' plan to kill prostitute, on OCRegister.com.
Mother's lawsuit: Flawed GPS, overworked parole officers led to her daughter's death in O.C. serial killings, on OCRegister.com.