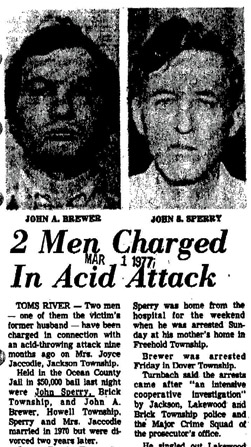 Sometime between 1966 and 1969, according to Stacey Jaccodie, John R. Gorbich of Neptune, New Jersey, changed his name to John R. Sperry.
Gorbich had plenty of reason to want a new name. He was arrested in 1956 for stealing parts from his employer, the Monmouth Radio Supply Company in New Shrewsbury, New Jersey. Gorbich was 30 years old at the time, and claimed to be a disabled veteran. The value of the stolen parts including boxes of television tubes was approximately $70,000, which was a lot of money in 1956. The Asbury Park Evening Press wrote:
Gorbich said he sold the tubes for $30 a box, about a third of their value, said the prosecutor. He was quoted as saying he spent the money for "high living and entertaining." This included purchase of a $4,700 airplane, which he subsequently sold for $3,700, and construction of a $2,000 addition on his house.

Then, Gorbich told detectives, he plunged $2,000 at Monmouth Park Race Track "trying to make a killing" so he could somehow put the money back into company funds before being caught."
Judge John C. Giordano sentenced Gorbich to "indeterminate terms" in the Bordentown Reformatory. The Asbury Park Evening Press wrote:
When Gorbich attempted to attribute his actions in part to a mental aberration, dating back to his military service, the judge replied that the defendant "knows the difference between right and wrong" and has above average intelligence.
Gorbich went to the reformatory, but it didn't reform him. In 1966, Gorbich was convicted of aiding and abetting an armed robbery at the American Hotel in Freehold, New Jersey. He drove the getaway car after two other men held up the night clerk with a shotgun. They took $104 in cash and the pistol of a patrolman who walked in on the crime.
New identity
After that, Gorbich decided he needed a new identity. He became John R. Sperry hero of World War II and Korea. He married Joyce Jaccodie in 1970.  They separated for the first time eight months later, although Sperry kept worming his way back into Jaccodie's life.
Sperry continued his criminal ways. In 1973, he pleaded guilty to fraud. Sperry took $1,200 from a man and promised to get him a union card, which he didn't deliver. He received a suspended sentence.
In 1975, Sperry was indicted for obtaining goods under false pretenses. He took goods from the Brielle Electric Company, promising to pay for them when he completed a construction project, which didn't exist. He also took $1,000 from a woman who lived in Point Pleasant Beach, New Jersey, for which he was indicted the following year.
In February 1976, Sperry was shot in the Moon Motel in Howell Township. According to press accounts, the bullet entered the small of his back and exited through his stomach. Sperry claimed it was a robbery attempt, and described his assailant as a man with long blond hair, standing between 5 feet 10 inches and 6 feet tall. In reality, Stacey Jaccodie says, Sperry knew the triggerman, because he owed him money.
The acid attack
On May 24, 1976, at 9:30 p.m. Joyce Jaccodie, John Sperry's estranged wife, was home with her 21-year-old daughter, Kim. They were watching television. Here's the Asbury Park Press account of what happened:
The doorbell rang, and when Mrs. Jaccodie answered the door she found a man with a gift-wrapped package.

"Is this 18?" he asked.

As Mrs. Jaccodie said yes, she saw the stranger's right hand come up from behind his back. An impulse told her to turn away, and within seconds, the attractive, 40-year-old, dark-haired woman was splattered with sulfuric acid

Because she turned, the left side of her face caught most of the acid. Her left arm was burned to the bone and her nylon shirt disintegrated on her body.

Five months and five doctors later, Mrs. Jaccodie is blind in her left eye, and may have to have it removed. Her face, neck, chest, both arms and left hand are severely scarred.
Sperry charged in acid attack
In March of 1977, two men were charged with atrocious assault and battery in the attack: John R. Sperry and John A. Brewer. Another man, Stuart Sansone, was also arrested.
According to press accounts, Sperry asked Sansone to find someone who would throw acid on his estranged wife's face. Sansone then approached Brewer, and said Sperry would pay him $1,000 to throw acid on  Jaccodie although the full amount was never paid.
The trial took place in December 1977. At first, Brewer pleaded innocent. But a few days into the trial, Brewer changed his plea and admitted that he threw the acid, which he said was actually hydrochloric acid. According to press reports
Asked why he tossed the chemical compound in Mrs. Jaccodie's face, Brewer said, "I don't know," adding, "Mr. Sperry (the victim's husband) gave me 110 reasons why she should be hurt." "¦

He said Sperry told him, "she'd been terrorizing his life since they were married."
John Sperry later pleaded guilty to atrocious assault and battery. In 1978, he was sentenced to six and a half to seven years in prison by Judge Mark Addison. The Asbury Park Press reported:
"There is very little good I can say about you," said Addison before sentencing Sperry to the maximum allowed for atrocious assault and battery. "¦

"You changed an attractive woman into something different," Addison said, adding, "I'm only sorry I can't sentence you to more and I'm not happy about that."
Judge Addison had already imposed a six-month county jail sentence on Sperry for trespassing on Jaccodie's property a few weeks before the acid attack. The atrocious assault sentence was to be served consecutive to that. Then, three weeks later, Addison sentenced Sperry again. He received another one to two years for obtaining goods by false pretenses, which ran consecutive to the other prison terms.
Joyce Jaccodie's divorce from Sperry was finalized after the attack, but his crimes affected her for the rest of her life. She died in 2002 at the age of 63. For the personal account of her daughter, read John R. Sperry threatened his ex-wife, Joyce Jaccodie and then made good on it.