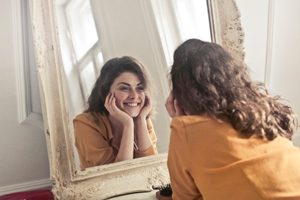 A few years ago, I read Eat, Pray, Love by Elizabeth Gilbert, which was the #1 New York Times bestseller when it was published in 2007. Gilbert tells her story of supposedly having everything career, marriage, home yet feeling depressed and unhappy. She left it all, got a divorce, and then spent a year abroad to find herself. She ate her way through Italy, studied spiritual practice in India, and sought to balance pleasure and divinity in Indonesia.
While going through her divorce, Gilbert had a relationship with a man whom she calls "David." This didn't seem to be a sociopathic relationship, just normally dysfunctional. Although they broke up, Gilbert, from time to time, pined for David. Her feelings came back to haunt her while she studied at an ashram in India. She was obviously despondent, so her wise and funny friend at the ashram, "Richard from Texas," asked her what was wrong.
Here's how Gilbert describes the conversation:
I was actually crying. "And please don't laugh at me now, but I think the reason it's so hard for me to get over this guy is because I seriously believed David was my soul mate."

"He probably was," Richard said. "Your problem is you don't understand what that word means. People think a soul mate is your perfect fit, and that's what everyone wants. But a true soul mate is a mirror, the person who shows you everything that's holding you back, the person who brings you to your own attention so you can change your life. A true soul mate is probably the most important person you'll ever meet, because they tear down your walls and smack you awake. But to live with a soul mate forever? Nah. Too painful. Soul mates, they come into your life just to reveal another layer of yourself to you, and then they leave. And thank God for it. Your problem is, you just can't let this one go. It's over. David's purpose was to shake you up, drive you out of that marriage that you needed to leave, tear apart your ego a little bit, show you your obstacles and addictions, break your heart open so a new light could get in, make you so desperate and out of control that you had to transform your life, then introduce you to your spiritual master and beat it."
Soul mate agenda
In my book, Red Flags of Love Fraud 10 signs you're dating a sociopath, the #2 red flag is "sudden soul mate." When you meet the sociopath, you feel like you've met the person you've been waiting for all your life. Why? Because the sociopath studies you, figures out what you're looking for, and then transforms himself or herself into your ideal mate (at least in the beginning).
Many sociopaths actively push the "soul mate" agenda. In my Internet survey for Red Flags, 64 percent of respondents agreed with the statement, "The individual said we were 'soul mates;' I was the person he/she was waiting for."
Sociopaths, of course, are using the "soul mate" terminology only as a tactic in their strategy of calculated seduction. It's part of the act, and their real agenda is exploitation.
But as much as I hate to give sociopaths credit for anything, they may, indeed, serve a purpose in our lives.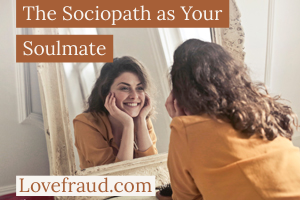 Hooking our vulnerabilities
Sociopaths look for our vulnerabilities and then use them to hook us. Their actions are certainly despicable. But the fact remains that we're the ones with vulnerabilities. These vulnerabilities are often detrimental to our happiness, and perhaps even our lives. The sociopath offers us a solution to our problems, an answer to our prayers. It is fake, but we don't know that until much later, when everything falls apart.
As we're standing amid the devastation that used to be our lives, wondering how we got into this mess, the truth may be right in front of us: In some way, we were vulnerable.
If we're honest, we can identify the weakness, pain or mistaken belief that may have been hidden even from ourselves, but the sociopath was able to find and use. Then, we have an opportunity to truly heal not only from the sociopath, but from the vulnerability that the sociopath targeted.
Shattered
This certainly happened to me. When I met James Montgomery, I was 40 years old, had yet to marry, and worried about my biological clock ticking. I was primed to be plucked. When I discovered Montgomery's betrayal, and realized that my marriage had been a scam from the very beginning, I was shattered.
But what, specifically, was shattered? The walls I had built around my heart. These walls were based on my fear of being hurt, my disappointment at feeling so alone in life, and my mistaken belief that I was not worthy of love. The betrayal by James Montgomery caused me so much emotional pain that I could not contain it, and the pain burst out of me, taking the walls with it.
And with the pain and the walls out of my system, real love was able to enter my life.
Two-fold recovery
So was James Montgomery my soul mate? I guess it depends on how you define the term. Richard from Texas, quoted above, would probably say yes.
I certainly agree that James Montgomery demolished who I was and changed the course of my life. But I'm the one who worked to clear out the emotional debris and discover who I really am. And that's what I hope you will do as well.
I am not making excuses for sociopaths. But I talk to a lot of people who have been involved with them, and usually, when I ask, they can identify the weakness that made them vulnerable to manipulation.
So make your recovery two-fold. Work on recovering from the sociopath. Then identify and work on recovering from the original vulnerability. Your life may change dramatically, and for the better.
Lovefraud originally posted this article on Nov. 11, 2013.