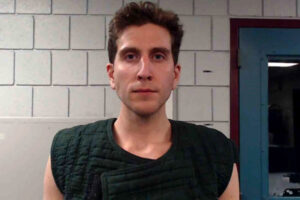 Wow — a suspect has been arrested in the gruesome murders of four Idaho college students — and he has a master's degree in criminal justice! Bryan Kohberger, 28, was pursuing a Ph.D. in criminology at Washington State University in Pullman, which is only a 15-minute drive from Moscow, Idaho, where the murders occurred.
First of all, Kohberger claims he is innocent, and under U.S. law he is innocent until proven guilty. Secondly, I have no information about the case beyond what is reported in the media, which may or may not be accurate. And finally, I have not seen any references to any psychological evaluations.
Still, reporters are scrambling to answer the question, "Who is Bryan Kohberger?" Some of the information they're digging up, if accurate, points to a troubled personality. Here are a few of the articles:
The Morning Call
Bryan Kohberger was a student of the criminal mind in college who struggled with heroin addiction in high school at Pleasant Valley, friends say
Key points:
Kohberger grew up in the Pocono Mountains of Pennsylvania, where former classmates recalled that he had an analytical mind but could sometimes be cruel.
Kohberger studied psychology and criminal justice at DeSales University under Katherine Ramsland, a well-known forensic psychologist and author of The Mind of a Murderer. He seemed fascinated with crime scenes and serial killers.
In his Washington State classes, Kohberger was interested in the thought processes of criminals when they committed crimes. He often took contrarian viewpoints and sometimes got into arguments with his peers, particularly women.
As a student teacher, he was a harsh grader and highly critical of student assignments, at least at the beginning of the semester. About the time of the killings in November, he eased off.
New York Post
Idaho murder suspect Bryan Kohberger was a 'creep' around HS girls, battled heroin addiction
Key points:
People who knew Kohberger in high school described him as a "creep" who repelled girls and as a heroin addict. He was also bullied by girls.
A classmate said, "There was definitely something off about him, like we couldn't tell exactly what it was."
Before senior year he lost about 80 pounds, and reportedly shifted from victim to aggressor.
Another former classmate shared a series of videos about her experiences with him. She described his appearances in photos as "expressionless" and having a "dead face."
Accused University of Idaho murder Bryan Kohberger 'never slept'
Key points:
Kogberger's neighbor said he was a very late-night person, sometimes vacuuming in the middle of the night.
He also kept to himself — other neighbors said "hello" a few times but had no other interactions.
Daily Beast
'Detatched" suspect in Idaho murders studied under famed criminologist
Key points:
A former classmate from DeSales University recalled Kohberger as "Very intelligent" but "seemingly detached." He didn't display much emotion and had an intense stare.
A high school classmate said Kohberger was a "bully" who would point out his friends' "flaws and insecurities" to distract from his own struggles with weight. Kohberger implied that the classmate lacked the intelligence to be his friend.
Daily Mail
REVEALED: Idaho murder suspect Bryan Kohberger conducted study of criminals' decision-making – and posted this chilling research project to Reddit seeking help from ex-cons
Key points:
Five months before the murders, Bryan Kohberger posted a survey on Reddit, asking criminals questions about how they selected their targets and carried out offenses.
Questions included: "After committing the crime, what were you thinking and feeling?" and "What was the first move you made in order to accomplish your goal?"
Was Idaho suspect planning the perfect murder? Profiler claims criminology PhD student charged in the quadruple slaying was 'well aware of his dark nature and homicidal ideation' – but 'academic arrogance' was his downfall
Key points:
Enzo Yaksic, a criminal profiler, said, "I suspect that Kohberger was well aware of his dark nature and homicidal ideation and endeavored to discover more about himself through his studies."
Former FBI agent Jonathan T. Gilliam said, "I suspect we'll find out he was becoming satiated for a period of time learning from these criminals – but once that wasn't doing it anymore, he took it from fantasy to real life."
Gilliam said he was a heavyset kid who turned himself into an extreme vegan who gradually showed an increase in violent behavior and dominance over people.
Is Kohberger a psychopath?
If Kohberger committed the crimes — which has not yet been proven — then, he must be a psychopath, right? Well, with what's been revealed so far, he doesn't check many of the psychopathy boxes.
The most well-known tool for measuring a person's level of disorder is the Psychopathy Checklist Revised, developed by Dr. Robert Hare. The instrument has been validated by hundreds of studies. It includes 20 traits and behaviors, each scored as 0 (not present), 1 (somewhat present) or 2 (a reasonably good match). Here are the checklist items:
Antisocial behavior
Need for stimulation and proneness to boredom
Parasitic lifestyle
Poor behavioral control
Sexual promiscuity
Lack of realistic long-term goals
Impulsivity
Irresponsibility
Early behavior problems
Juvenile delinquency
Parole or probation violations
Emotional/interpersonal traits
Glibness and superficial charm
Grandiose sense of self-worth
Pathological lying
Conning and manipulativeness
Lack of remorse or guilt
Shallow affect
Callousness and lack of empathy
Failure to accept responsibility for own actions
Other factors
Committing a wide variety of crimes
Having many short-term marital relationships
Which of these traits may apply to Kohberger? So far, not many of them do. I see the following:
Need for stimulation and proneness to boredom — reflected by his high school heroin addiction, and by the fact that he never slept.
Grandiose sense of self-worth — Kohberger wanted people to know how intelligent he was.
Shallow affect — multiple former classmates commented about Kohberger's flat emotions and expressionless face.
Callousness and lack of empathy — If Kohberger actually committed the crimes, he would need to be callous and lacking in empathy to do it. But of course this case has not yet gone to trial.
Surprisingly, with what has been reported about Kohberger so far, he would not score very high on the Psychopathy Checklist Revised. But let's see what other information comes to light as the case proceeds.
Learn more: What did they want? Psychopaths, antisocials and other exploiters in romantic relationships