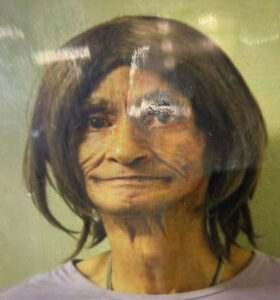 Twice, Harvey Marcelin, 83, was convicted of murdering and dismembering girlfriends. Marcelin spent more than 50 years in prison for the gruesome crimes, and was paroled in 2019. After his release, he started identifying as a woman.
Marcelin was placed at the George Daly House, a short-term housing alternative for seniors in New York City. Marcelin's behavior frightened Monica Archer, a case worker there, and she repeatedly warned her superiors about the threats he made.
Archer's concerns were ignored, and Marcelin was moved into an individual apartment. A week later, Marcelin allegedly murdered and dismembered another woman, 68-year-old Susan Leyden. Leyden's leg was found on a street in Brooklyn. Her torso was in a shopping cart Her head was found in Marcelin's apartment.
Marcelin was charged with first- and second-degree murder, tampering with evidence and concealment of a human corpse, and has pleaded not guilty to the crimes.
Case worker files lawsuit
Archer has now sued her employer, claiming that she was fired for warning them about Harvey Marcelin. When superiors did not address her concerns, according to the lawsuit, Archer reported them to the U.S. Occupational Safety and Health Administration.
Even after Marcelin was arrested for the murder, Archer says she was relegated to janitorial work. Then, Archer says, she was fired for insubordination. She claims it was retaliation for reporting her concerns.
Prior murders
Marcelin was first accused of murder in 1963. According to court records, he shot Jacqueline Bonds, an ex-girlfriend, in the hallway of an apartment building on Eighth Avenue in Manhattan. Bonds ran into the bedroom of the apartment, where Marcelin shot her again. He was convicted of first-degree murder and sentenced to 20 years in prison. Marcelin was paroled in 1984.
In 1986, Marcelin was convicted of killing another ex-girlfriend, stuffing her body in a bag and dumping the remains on a sidewalk near Central Park. He was sentenced to six-to 12 years in that case, and was released in 2019.
Harvey Marcelin spent more than 50 years in prison for the two murders. When he started making threats, Monica Archer took him seriously. Unfortunately, according to her lawsuit, her superiors in the senior housing facility did not.
Jailhouse interview
The New York Post conducted a jailhouse interview with Harvey Marcelin. It's frightening.
He admitted the first two murders. "Harvey's not a good guy, he's a tough guy," Marcelin said in the interview. "Marceline's nice and gentle and loving, you know, lots of laughter, fun to be with. She's the one who's perfectly normal."
Marcelin said he met his latest alleged victim at the Tompkins Square Park in the East Village, and Leyden was among his "coven" of women.
"It got to the point where I was ruling the park," said Marcelin, according to the New York Post. "A lot of women claimed ownership of me. I was the queen. It's a very magical park, you know."
Read more:
Don't call her Harvey: Chilling jailhouse interview with trans serial killer, on NYPost.com.
Claims insanity
Marcelin absolutely refused to participate in his defense during the first murder trial in 1963. Marcelin's court-appointed counsel sought a psychiatric examination to determine if he was competent to stand trial, and he spent six weeks in the Bellevue Psychiatric Hospital. A report by three psychiatrists concluded that Marcelin had "schizoid personality with sociopathic features," but he was competent to stand trial.
Marcelin still refused to communicate with his attorney, so another psychiatric evaluation was conducted. Again, he was found competent to stand trial.
But apparently Marcelin had entered Bellevue voluntarily a year before the murder. The hospital record mentioned "delusional grandiosity," "suggestions of chronic schizophrenia" and "paranoid reaction personality." Still, the psychiatrist found he did okay — if he took his meds.
After he was convicted, Marcelin filed a petition with the court, trying to claim that his defense attorneys should have argued that he was legally insane at the time of the crime. The court denied his petition.
Read more:
Harvey A. Marcelin v. Vincent Mancusi, Superintendent of Attica State Prison, on Justia.com
In summary, Harvey Marcelin was diagnosed as a schizopath. This is absolutely the most dangerous personality disorder. It describes someone with a lack of interest in social relationships, emotional coldness and an internal fantasy world, who knows exactly what he is doing and has no conscience to limit his behavior.
Someone like that is capable of almost anything.
Senior sociopaths don't change
Maybe the people at the George Daly House assumed that because Harvey Marcelin was 83 years old, he was no longer dangerous, and therefore would be able to live on his own. If so, it was a truly bad assumption, one that allegedly led to another woman's death.
As I write in my book, Senior Sociopaths – How to recognize and escape lifelong abusers, sociopaths do not grow up, calm down or mellow out over time. In fact, my research shows that as they get older, many senior sociopaths get worse.
The case of an 83-year-old serial killer proves the point.
If you are dealing with someone who, after age 50, is still disrupting your life, please educate yourself about senior sociopaths:
Senior Sociopaths – How to recognize and escape lifelong abusers