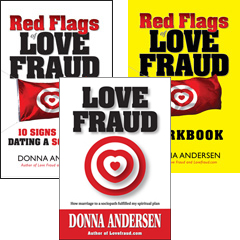 Lovefraud.com launched in July 2005, so we're celebrating 13 years online! In honor of our anniversary, you can buy all three of Donna Andersen's printed books for $24.50 — a savings of 57%.
Red Flats of Love Fraud – 10 signs you're dating a sociopath
This self-help book reveals, for the first time, the tactics of social predators who pursue romantic relationships not for love, but for exploitation. You'll learn how sociopaths seduce their targets, why it's hard to escape the relationships, and how you can protect yourself.
Red Flags of Love Fraud Workbook
The scary truth is that sociopaths can't seduce us without our own involvement. Why did you believe his or her story? This compact workbook helps you identify your beliefs and traits that make you vulnerable to a sociopath.
Love Fraud – How marriage to a sociopath fulfilled my spiritual plan
Love Fraud tells two parallel stories. The first is the true story of Donna Andersen's marriage to a sociopathic con artist, James Montgomery a revealing look at the true behavior of a sociopath. The second story is a spiritual journey. Seeking to understand why her life was ravaged, Donna learned that her soul planned the entire debacle to experience and then release the devastating betrayal, so that she could return to wholeness.
All books are autographed by the author. This offer is only for printed books, and shipping is additional. Buy them today — just click the link below!