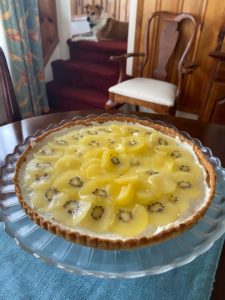 Yes, there is love after the sociopath, and the proof is in the kiwi tart that my husband, Terry Kelly, made for us today.
We received a gift box of fruit, including golden kiwis. It came with a recipe for a kiwi tart. Yesterday, Terry bought the rest of the ingredients. This morning, he made the tart.
Why is the timing significant? Because I have hypoglycemia, or low blood sugar. I need to monitor my sugar intake, and if I eat sweets too late in the day, such as after dinner, the sugar keeps me awake half the night.
Terry made the tart early so we could enjoy it with our lunch, and I'd be able to sleep later. This is just the latest of the multitude of pleasures and kindnesses that I enjoy in my love after the sociopath.
My marriage to James Montgomery
If you've been reading Lovefraud for a while, or watching my YouTube videos, you probably know my story. My first husband, James Montgomery, was a sociopathic con man. He took $227,000 from me, cheated with at least six women, had a child with one of those women, and then, 10 days after I left him, married the mother of the child. It was the second time he committed bigamy.
Read more: James Montgomery in True Lovefraud Stories.
I cannot think of a single kindness that James Montgomery showed me during the entire two and a half years that we were together.
At the time, I didn't notice. In the beginning of our relationship, I was swept up in the excitement of Montgomery's big business plans, so that when he suggested that I "invest" in them, I was pleased that he was willing to share the profits with me. Then, he pulled me into supporting him, with my time, energy and money.
What did James Montgomery offer me? Dreams that we'd be "living in the lap of luxury." Dreams that were later shattered, leaving me in a heap on the floor.
Love after the sociopath
In 2001, a little more than a year after my divorce, I met Terry Kelly. We've been together ever since — true love after the sociopath.
Terry's first kindness came on our second date. I'd told him my crazy story on our first date — how my ex-husband had lied about his financial assets, failed as an entrepreneur and swindled me. So on our second date, Terry brought along his tax return to prove that he did earn his own money. I was touched. We've been doing nice things for each other ever since.
Sociopaths can appear to be thoughtful
It is possible for sociopaths to appear to be thoughtful. But there is always a hidden agenda.
Typically, sociopaths are nice as they are reeling you in. I've heard stories of men who cut the grass and trudged through the snow with groceries while seducing their targets. I've heard stories of women who made cocktails and cooked. But once the targets were hooked, all niceties stopped — unless, of course, the target started slipping away. Then suddenly, the sociopaths were attentive again.
Read more: 9 questions to help you discern if your caring, helpful partner is faking it
If you've seen this pattern — your partner couldn't do enough for you in the beginning, then became indifferent until you started to leave — take a close look at your relationship. Is the kindness you experience actually manipulation?
The gift of healing is love after the sociopath
So how do you transition from the devastation of involvement with a sociopath to a true, supportive relationship? The secret is to focus on your own healing.
After the sociopath, you feel shredded — emotionally, psychologically and perhaps even physically. You're feeling grief, anger, betrayal, disappointment, shame. These emotions need to be released.
Recovery is a lot of work, and it takes time, but it is absolutely worth the effort. By releasing the pain and creating internal balance, you open yourself up to sweet love after the sociopath.