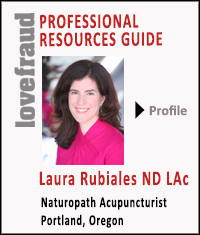 Editor's note: I am pleased to welcome Laura Rubiales, ND, LAc, to the Lovefraud Professional Resources Guide. Dr. Rubiales is a doctor of naturopathy and a licensed acupuncturist.
What experience have you had dealing with sociopaths or other disordered personalities—personally, professionally, or both?
Unfortunately, I have dealt with sociopaths and other disordered personalities both personally and professionally. The field of medicine, along with many other professional fields where people have authority over others, seems to attract a high rate of narcissistic personality disorder. I also got conned by a sociopath presenting as my soul mate and I was deeply humbled by how well these characters can come across.
How do you go about helping clients who have tangled with a sociopath?
First and foremost, I want to know if they are safe from any further harm. Are they in a safe place? Are they being threatened? If so, how can they get to safety? If they are battling custody issues or in a frivolous lawsuit with one, I want to encourage them having the right legal counsel since law is another profession that can be high in narcissists and sociopaths.
In my medical practice, I want to see a thorough medical workup so the person has the right treatment physically and the physical resources both nutritionally and hormonally to cope with the tornado a disordered person leaves behind. It's very common for survivors of sociopaths to have complex PTSD. One of the ways to treat the PTSD is calming the nervous system. I encourage and use modalities that help restore peace to the energetic and emotional body such as acupuncture, homeopathy, yoga, being in safe places in nature and various kinds of bodywork. I also refer to therapists and medical specialists as needed. Also, I really encourage no contact as a way to see more clearly as well as calm the nervous system.
I have created a 5 day retreat in Portland, Oregon and named it Urban Retreat for Renewal. I am collaborating with a local therapist who specializes in narcissistic abuse and a massage therapist. I provide the medical workup with appropriate treatment, acupuncture, homeopathy, nutritional counseling and medication when necessary. I am hoping that being in a different city and seeing safe practitioners will empower patients to have a jump start on moving beyond the trauma and get perspective of more life giving possibilities.
What, in your experience, is the biggest issue or problem that people who have been betrayed by a sociopath need to overcome?
The biggest issue depends on the person's individual circumstances. If the person's career or health or finances are damaged, the biggest issue then becomes insuring day to day safety, health and economic survival. Also, what seems to be a huge issue is the cognitive dissonance disordered people leave behind. This is where the right therapist can be a lifesaver to disentangle from the trauma bond.
What's one tip you can suggest for helping Lovefraud readers recover from the betrayal of a sociopath?
Treat yourself to a good medical workup. Proper vitamin levels such as B12, iron, and Vitamin D levels as well as a balanced thyroid will help you cope and recover more quickly. As a naturopathic doctor, I aim for optimal levels of those labs and investigate the symptoms someone has to identify the cause of illness.