By Margaux Mannion Brown 
Editor's note: Margaux Mannion Brown is the pen name for a Lovefraud reader.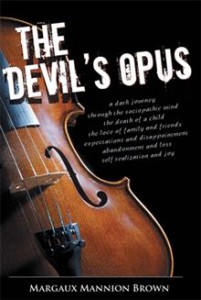 Ideas for The Devil's Opus began to emerge when I became fascinated with sociopathic personalities. This occurred when I discovered that one of my close friends had married one.
Everyone liked Joe. He was charming, flattering, and helpful. So helpful, that through his career as an investment broker, he was able to scam hundreds of thousands of dollars out of his clients, friends and family. Most of the money was lost on gambling. The rest of it went on big houses, fancy cars, and expensive vacations he pretended to afford. Things fell apart for Joe when people began to demand their investment returns.